Honda Dealership Cleveland OH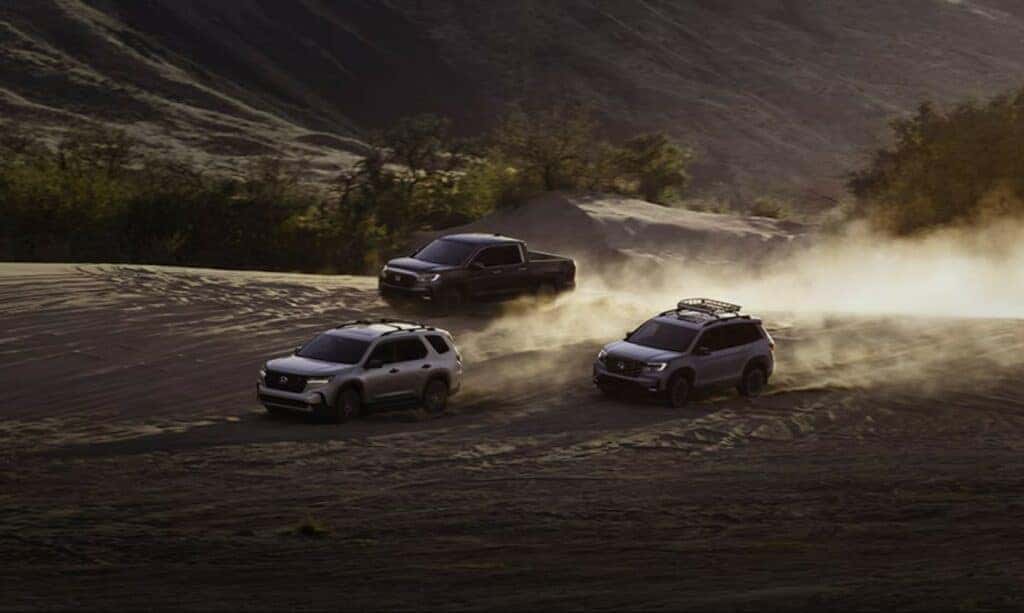 Are you looking for a Honda dealer in Cleveland, OH? Then you've come to the right place! Honda of Middleburg Heights is proud to offer the entire lineup of new Honda vehicles to customers in Cleveland, Ohio. Need a quality used car at an affordable price? We also offer one of the best selections of used vehicles. Our Honda Sales Professionals are standing by to help answer any questions you have regarding your purchasing decision. Call, click or visit our Honda dealership today!
Exploring the Honda Lineup
The new Honda lineup features some of the most popular vehicles on the market today. From comfortable sedans to family-friendly SUVs, Honda really does have a car for every driver. The Honda brand has continuously delivered safe and comfortable vehicles at an affordable price point for every model they release. Let's take a look at some of the most popular Honda vehicles.
Honda CR-V
The Honda CR-V is one of the most popular vehicles in the Honda lineup. It offers a well rounded package that includes superior safety features, great fuel economy, and modern, stylish design. The CR-V has plenty of space for both passengers and cargo, making it ideal for long trips. It also comes with various tech features such as an automatic emergency braking system, active lane-keeping assist, and a 7" touch screen display. The Honda CR-V is an excellent vehicle for individuals or families who want a reliable car that offers great value for money.
Honda Civic Type R
The Honda Civic Type R is one vehicle that stands out in the new Honda lineup. The Type R is a car with plenty of power and performance features to appeal to car enthusiasts and drivers who want speed. The car features a turbocharged 2.0L engine with four-cylinder engines and a 6-speed manual transmission. The visual appearance of the Honda Civic Type R is also awe-inspiring, with its modern and sporty design. The interior of the car is optimized for functionality, safety and passenger comfort. The Honda Civic Type R is an excellent model for individuals looking for a speedy, performance-driven ride that turns heads.
Honda Odyssey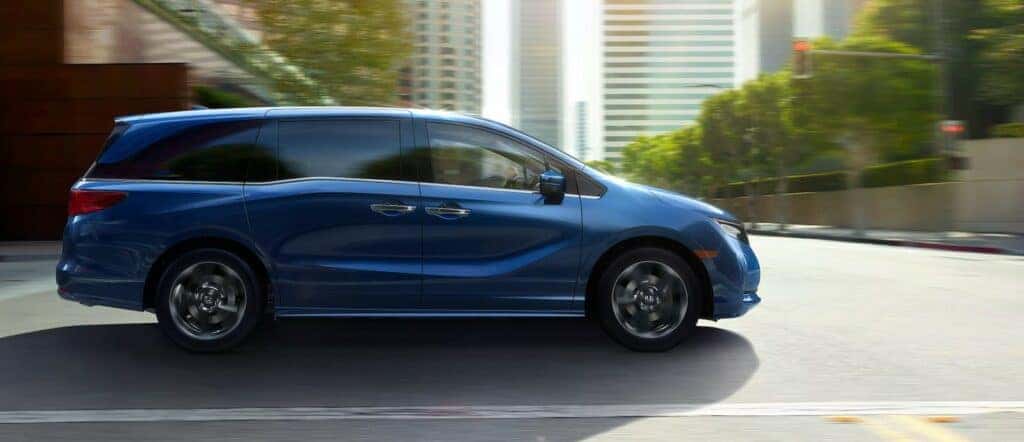 The Honda Odyssey is a minivan that caters to families who want a spacious, comfortable, and reliable car to serve their family's needs. The new Honda Odyssey comes with features such as a dual-screen rear-seat entertainment system for passenger enjoyment, and the cabin is well-lit, airy, and spacious. The family-friendly minivan includes a powerful engine and drivetrain, making it practical for both city and long trips. Safety features for the Honda Odyssey include airbags and a rearview camera, plenty of high-tech amenities, sure to make any trip an enjoyable one. The car's cost-effectiveness also makes it an affordable option for most budgets.
Why Buy a New Honda Vehicle?
Choosing the right car can be a daunting task, especially with so many options available in the market. Honda has proven to be reliable, safe, and innovative time and time again. The Japanese automaker has been producing top-quality vehicles for more than 70 years. Let's explore what it is that makes Honda one of the most popular automotive manufacturers on the market today.
Reliability
One of Honda's strongest attributes is its reliability. New Honda vehicles are known to be dependable, and they're built to last. Honda engines are designed to be super-efficient, and they're built with high-quality materials. With proper maintenance, a Honda vehicle can last for a long time, providing its owner with a peace of mind that the car they've bought is a reliable asset.
Safety
Safety is a top priority for drivers, and Honda excels in this area. New Honda vehicles come with a variety of safety features that help to protect both the driver and passengers on board. Some of Honda's features include anti-lock brakes, airbags, and stability control, which help keep drivers and passengers safe in the event of a collision.
Cutting-Edge Technology
Honda is known for being innovative, and their vehicles demonstrate this well. Their vehicles come with state-of-the-art features like touchscreen infotainment systems, collision avoidance systems, and driver-assist technology. These features make driving a Honda more comfortable and enjoyable, making them a great investment for both personal and professional uses.
Fuel Efficiency
Honda is renowned for creating vehicles with fuel efficiency in mind. They've been leaders in this area, advocating for a cleaner and greener environment, as they produce a range of hybrid vehicles, electric vehicles, and energy-efficient regular vehicles; making the Honda line of cars a perfect match for the environmentally conscious buyer.
Wide Range of Vehicles
Honda offers a wide variety of vehicle models that can cater to different needs. This includes the family-oriented Odyssey minivan, the performance-tuned Civic Type R, the practical HR-V crossover, and the luxurious Accord sedan. With such a wide range of vehicles, Honda has something for everyone.
Hondas are well-rounded cars and a perfect choice for savvy buyers looking for a reliable, safe, fuel-efficient vehicle with cutting-edge features. They provide excellent value for money and are an excellent investment for people looking for a car that will stand the test of time. At the end of the day, Honda vehicles continue to perform fantastically in independent studies and vehicle reliability rankings, reiterating the fact that they are indeed excellent vehicles that will serve the owner for years to come. So, if you're in the market for a new car, be sure to consider the world-class vehicles that Honda has to offer.
Certified Pre-Owned Honda Vehicles
Are you in the market for a quality used vehicle? Consider exploring the Certified Pre-Owned Honda program. Here at Honda of Middleburg Heights, we carry a wide selection of quality used and certified used Honda vehicles. Let's explore some of the benefits of a certified used Honda. 
HondaTrue Certified+
The Honda Certified Pre-Owned program offers plenty of benefits that cover three tiers of vehicles. The first tier is called HondaTrue Certified+. This is the top tier of the program and covers Honda vehicles from the last two model years that have 12,000 miles or fewer. The Certified+ vehicles receive a 7-year/100,000 mile powertrain warranty and a 5-year/86,000 mile Non-Powertrain Warranty. Owners will also get Roadside Assistance, up to two complimentary oil changes and a 3-day exchange policy. 
HondaTrue Certified
The next tier is called HondaTrue Certified. This tier includes vehicles that were purchased within the last 6 model years and have fewer than 80,000 miles. This tier also gets the 7-year/100,000 mile Powertrain Warranty. For vehicles purchased within New Vehicle Limited Warranty period, you'll get the Non-Powertrain Warranty for 4 years*/48,000 miles. For vehicles purchased after New Vehicle Limited Warranty has expired, you'll get 1 year/12,000 miles from delivery date. Owners will also get Roadside Assistance, up to two complimentary oil changes and a 3-day exchange policy. 
HondaTrue Used
The third and final tier is called HondaTrue Used. This tier receives the Powertrain Warranty for 100 days or 5,000 miles, whichever comes first. You'll also get Non-Powertrain Warranty coverage for the same period. Owners will also get Roadside Assistance, one complimentary oil change and a 3-day exchange policy. 
Other Certified Pre-Owned Benefits
In addition to the benefits we've previously explored, owners of Honda Certified Pre-Owned vehicles will receive plenty of other benefits. Let's take a deeper look at them below.
Certified Peace of Mind
Every HondaTrue vehicle receives a Honda-backed limited warranty, so you can feel confident at the dealership and on the road.
Complimentary Maintenance
Honda Service Pass covers select factory-scheduled service to your 2023 or newer Honda for up to two years or 24,000 miles.
Unmatched Transparency
Know what to expect before you test drive with a downloadable vehicle inspection report. Available for all HondaTrue Vehicles.
Professional Honda Service

As a Honda owner, you know how important it is to maintain your vehicle for optimal performance and longevity. Keeping your car well-maintained will not only save you time and money in the long run but also ensure safer driving experiences. When it comes to servicing your Honda vehicle, you can take it to a local repair shop but if you're looking for unparalleled service, expertise, and convenience, Honda of Middleburg Heights is the best choice.
Factory-Trained Technicians
At Honda of Middleburg Heights, our team of technicians is factory-trained, meaning they have received rigorous training from Honda. They have extensive knowledge of Honda vehicles and are experts in diagnosing and fixing issues. Our technicians use state-of-the-art equipment and genuine Honda parts to ensure that your vehicle is running smoothly, safely, and efficiently.
Convenient Service Hours
We understand your busy schedule and strive to make the servicing process as convenient as possible. That's why we offer flexible service hours, including evenings and weekends, to fit your schedule. Plus, our online scheduling system makes it easy to schedule your service appointment from the comfort of your home or office.
Complimentary Amenities
When you service your Honda vehicle with us, we go the extra mile to ensure a comfortable and enjoyable experience. Our dealership offers complimentary amenities, including a comfortable waiting area with free Wi-Fi, coffee, and snacks for your convenience.
OEM Parts and Accessories
When you bring your Honda vehicle to Honda of Middleburg Heights, you can trust that we use genuine Honda parts and accessories. OEM parts are specifically designed for your Honda vehicle, ensuring that your car is running optimally and efficiently. Using OEM parts and accessories also means that your car's warranty remains intact.
Servicing your Honda vehicle at Honda of Middleburg Heights is the smart choice if you're looking for best-in-class service and expertise. Our factory-trained technicians, convenient service hours, complimentary amenities and use of OEM parts and accessories make us the go-to dealership for Honda owners. Make an appointment today, and experience the difference at Honda of Middleburg Heights.
Thanks for Choosing Honda of Middleburg Heights
The team here at Honda of Middleburg Heights thanks you for considering us for your vehicle needs. Whether you are looking for a new car, used car, service or parts, we look forward to helping you get back on the road. Come and check out our full selection of new Honda vehicles, or get a great deal on a reliable pre-owned model. No matter which vehicle you decide on, our professional finance team will help you get settled with a competitive financing or lease plan.
When you're looking for quality auto maintenance and repairs near Middleburg Heights, you can always count on the professional technicians in our Honda service department as well, where we handle everything from oil changes and filter replacements to powertrain and drivetrain repairs. Schedule an appointment today, or purchase parts from us to handle maintenance and repairs on your own!
Lots of folks in Middleburg Heights count on the high-quality vehicles and services found at Honda of Middleburg Heights, and we look forward to living up to our reputation every day. Call, click or stop by our Honda dealership in Cleveland, OH today!